Take a moment to consider all the ways you could improve and customize the outdoor spaces of your home. Would you add a pool? A new deck with elegantly flowing stairs? A cooling green space offset with a water feature? Whatever your dream vision is for your outdoor space, it probably does not include crafting a space where guests will sweat, sizzle, and sunburn while your carefully chosen plants die on the vine.
Besides armies of mosquitoes, nothing detracts more from the comfort of an outdoor space than relentless exposure to the elements. If you think that creating a protected outdoor space is limited to a) a patio umbrella or b) going inside, think again! Today's connected smart homes allow(s) you to bring the same types of automation that you have come to expect on the inside of your home, to the great outdoors. (Or at least your backyard!)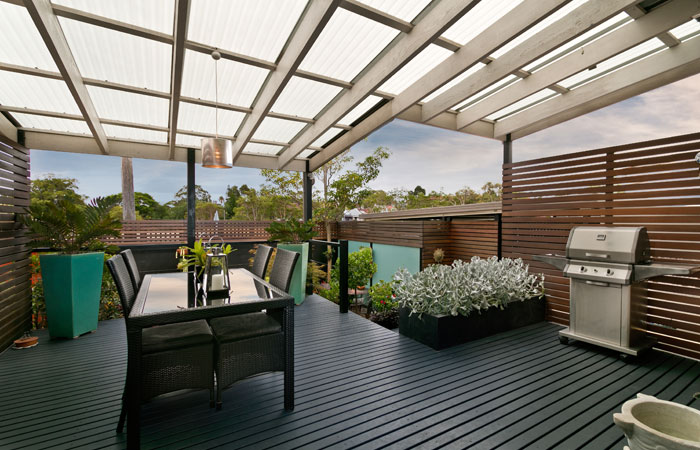 While a motorized outdoors solution can certainly cool off, did you know that it can benefit your indoor space as well? You may already know that your window treatments can have a huge impact on your home heating expenses. But did you know that outdoor shades can have a similar effect?The U.S. Department of Energy estimates that an awning cuts down on heat gain by up to 77% while in use. Cooling and protecting both your indoor and your outdoor spaces at the same time is a winning combination, especially on those hot summer afternoons.
Below, we explore some of the most convenient, effective, and stylish solutions for creating protected outdoor spaces.
Protect Your Family
Nowadays, we're all aware that we should reduce our exposure to the sun. But does that have to mean going indoors? Imagine if, with just the touch of a button, you could transform your patio or deck into a cool, shady oasis. When you choose a motorized awning solution, you drastically increase the usability of your outdoor spaces. A frequent frustration that homeowners have is that there are large swathes of the day when decks and patios may be un-useable due to the sun. A motorized awning or pergola means that you can have sun on your own terms and banish sunburns to a thing of the past.
Let it Rain
While pergola fabrics are often waterproof, awning fabrics can suffer damage from rain. Instead of trying to remember to retract the awning when it rains, you can use a sun and rain sensor, like the Ondeis™. A sun and rain sensor will automatically retract and extend your awning based on whether or not it's sunny or rainy. That way, your awning can provide your family a cool place during the summer heat, but it never becomes a hassle when it rains.
Bring the Inside Out
When your kitchen feels like it is about a thousand degrees, the last thing you want to do is turn on the stove. On nights like this, have you ever wished you could magically escape the heat of the house and cook dinner in one fell swoop? With a covered outdoor space, you can fire up the grill without frying yourself in the sun's hot rays—all without heating up your home. If you are interested in stepping up your outdoor cooking game, then a motorized covering might be just the ticket!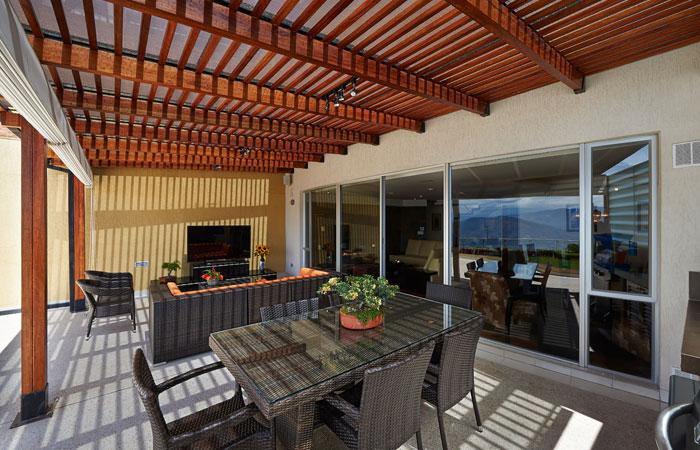 Now that you've had a chance to imagine all the different ways that your protected outdoor space could enhance your home's appeal, you likely have some questions about the different options that are available to you. When you step beyond the boundaries of the patio umbrella, it's a whole new world –two of the most pleasing motorized solutions are motorized awnings and motorized pergolas. Each of these different options has different benefits, but both will add value to your home's outdoor spaces in terms of making them feel more defined and protected.
Motorized Awnings
You can use an awning to cover all of your outdoor area, or just a small part, which can serve as shady retreat. Add to that the fact that you can control your motorized awning with the touch of a button, and it just doesn't get more convenient.
Our Sunea RTS CMO motor is ideal for cassette, semi-cassette, and retractable awnings. For an added touch, we offer advanced sensor technology that can automatically retract your awning in case of wind. The Eolis 3D WireFree™ RTS Wind Sensor is just one of the many features that you can select to create the ideal motorized solution!
Motorized Pergolas
Perhaps even more flexible than an awning, a pergola sits adjacent to your home and may really feel like its own structure. It may be attached to your house, or it may be freestanding. A pergola offers so much in the way of flexibility that many people find it a tough option to pass up. You should know, however, that there are three main types of pergolas to consider: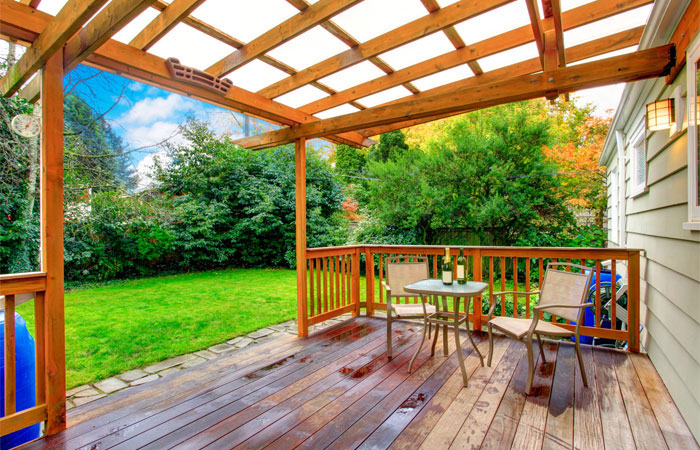 Winding canvas pergola
This type of pergola functions much like a solar shade. It remains tight while the covering is extended and rolls-up neatly when retracted.
Folding canvas pergola
A folding canvas pergola is an elegant solution for any outdoor space. The draping of the canvas material adds a classic feel, while still, of course, protecting you from the outdoor elements.
Adjustable slat pergola
Perhaps the most flexible of the three options, the adjustable slat pergola allows you to control sunlight intensity, much like you would with interior adjustable blinds, just on a much larger scale!
You'll control your motorized pergola with a remote device or remote control. It's quick, simple, and quiet to completely change the look and feel of your outdoor space to match your mood and needs. The Orea Motor from Somfy will work for any of the three pergola options mentioned here.
If you want to further customize your pergola, you may want to consider the Soliris RTS sun and wind sensor, which controls your pergola based on the weather. Your pergola may even know when it's going to rain before you do! Our multi-channel Discover Telis 16 is the ideal complement to your new pergola. It allows you to control all of your motorized blinds, shades, and outdoor coverings from one central remote. Convenience has never been more comfortable, or more customized!
Covered patio
If you already have a covered patio or are adding one to your home, consider adding automated screens to protect you and your family from bugs and sun damage. This option gives you a useful space no matter the weather or bugs, year round.
Outdoor space for family and friends to gather around is an important aspect of your home. Motorized awnings and pergolas truly set the homes they grace apart from other homes in the neighborhood. Once you have your motorized solution set up, you can pick your plants, invest in some fun outdoor furniture, and expect to be the most popular spot on the block in no time!