CE industry drummers Matt Scott, Shawn Hansson, Tim Bigoness, Robert D'addario, Paul Muto and Jim Garrett discuss the impact Neil Peart had on drums and music.
This version of "Limelight" from the "Clockwork Angels" tour Blu-ray disc is hidden in the disc's special features section. For electronics industry members, this video is a great sounding example of a powerful band in a big-venue environment. You can hear the ambiance of the arena, the clarity of the individual notes in the chords Alex Lifeson plays on guitar, the intricate bass line from Geddy Lee and the complexity of Neil Peart's drum parts. (video provided by TheUglylucy4 on YouTube)
On Friday, January 10, the world learned of the passing of Neil Peart, the iconic drummer from the Rock and Roll Hall of Fame band Rush.
Rush fans, which are some of the most dedicated in music, include famous actors, politicians and of course a legion of drummers that cite Peart and Rush as a musical influence.
Peart's influence and Rush's fandom are quite pervasive in the consumer electronics industry and more specifically the custom installation market. Dealers, manufacturers and even the staff of CE Pro are huge fans of Rush and Neil Peart.
We all have one thing in common, however—we all love Rush.
One thing about Rush that separated the band from other rock bands was their dedication to their art form and not compromising their vision for what their albums should sound like. This vision saw several musical eras of Rush.
In the band's early days they pulled quite heavily from Led Zeppelin's tree of blues-based rock. By the mid-1970s and albums like "2112" and "Hemispheres," they branched out into progressive rock and concept albums.
In the late 1970s and early 1980s, the band shifted into radio-friendly, hard rock with albums that include "Permanent Waves" and "Moving Pictures." Through the rest of the 1980s, Rush morphed into a keyboard-heavy band with records like "Grace Under Pressure" and "Power Windows" that were not accepted by some of the band's fans.
Since the 1990s, the band has focused on hard rock with a string of records starting with "Roll the Bones" and most recently "Clockwork Angels."
CE Pro asked custom install market professionals who also play drums—Matt Scott of Omega Audio Video, Shawn Hansson of Logic Integration, Tim Bigoness from D-Tools, Robert D'addario from Cleerline Technology, Paul Muto from Muto Communications, and Jim Garrett from Harman—to reflect on the passing of Neil Peart and to offer their thoughts on Rush.
Matt Scott, president, OMEGA Audio Video, co-founder, AVNation.tv
Scott says that he isn't the biggest Rush fan, but "that being said, Peart was that amazing musician that made you listen to someone even though you didn't like them … [I listened just] to hear him play. That was me with Peart and Rush. Yes, they're in the hall of fame, yes they're Canadian [Scott is Canadian] … maybe I'm too young or not young enough. Either way I never really liked Rush. Not my style, not my thing. But then one day one of my friends who play introduced me to the drum track on 'Tom Sawyer' Not the whole track, just the groove Peart played. It was amazing. Then my friend played me more of Rush. I Didn't love it, but wow—was Peart amazing."
Scott continues: "That's part of what made Peart such a special musician. He transcended the band. He was arguably the best musician in the band and arguably one of the best drummers of all time. Name five drummers who are better … name 10 [drummers]? I'll wait. You can't. The way he played and mixed grooves mid-song is something that has inspired and influenced countless drummers and bands. Although I never really liked Rush, I LOVED Neil Peart!"
Shawn Hansson, founder and CEO, Logic Integration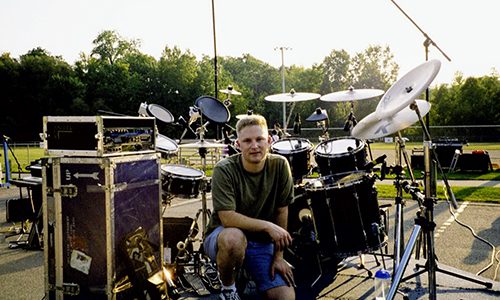 "Neil Peart had a very big influence on me personally, as well as many other drummers such as Carter Beauford, Dave Weckl, and others.  From the type of drum kit he played to the way he had it set up in such a unique way, always impressed me. I always wanted to make my drum kit bigger and bigger every year! The way Neil was able to move his fills around regardless of the time signature was incredible. He had such a knack for moving the time around and cramming so much into such few music measures flawlessly," comments Hansson.
"I have been to a few of Rush concerts, but the one that stuck out to me was the 'Test for Echo' tour. Not only was Neil an incredible drummer, but he was also an incredible lyricist and author. I think his style has made many great drummers who they are today. I don't think there will be any other drummers that will be like him, he will be missed greatly!"
Tim Bigoness, CMO, vice president of sales, D-Tools
"Neil was always, to me, the embodiment of the perfect technically skilled rock drummer. I can remember countless times trying to perfect that opening drum fills in 'Spirit of the Radio' back in high school and kidding myself that I finally had it down [I didn't] when I came close. 'Moving Pictures' was my favorite Rush album and I was lucky to see them for the first time on that tour.
Related: David Bowie "SPACE ODDITY" 50th Anniversary
Bigoness adds: "Neil was always an influence, and I have many great memories of trying to learn what I could from him."
Robert D'addario, president, managing director, Cleerline Technology Group
"Regarding Neil Peart, quite honestly I would be untruthful to say that he was a major influence on my drumming or musical life, but that doesn't in any way diminish the respect I have for him. While my influences have been more in the vein of Ringo [Starr], Stewart Copeland, Clyde Stubblefield, Zigaboo, and other groove masters, Neil was truly a unique force within the drumming community that transcended so many of the greats. Neil Peart pushed the envelope in terms of technique, and pure proficiency beyond so many. I would put him in a class of drummers such as Terry Bozzio, Dave Weckl and others that truly look to master the craft of playing drums almost scientifically while preserving the artistic core of music—but where others would be recognized to drummers—Neil was known to everyone, bringing that undying pursuit for perfection in technique and rhythmic complexity to a mainstream progressive rock audience," says D'addario.
"He truly left a unique legacy in music that will live on as long as humans play music or listen to recordings from this age. It always amazed me how well he was known to those who didn't play music or drums in particular, because in so many ways he brought a style of drumming to the masses that was truly his own, and in my opinion, there is no greater compliment to a musician than that."
D'addario also points out that Cleerline Technology's sister company is the drumstick company Promark, which is a manufacturer Peart worked with throughout his career. Here is a statement from Promark on Neil Peart's passing:
"As an artist of Promark, one of the sister companies to Cleerline, this is a shock to our core as Neil was as loyal to our company and the product we made on his behalf as he was to his pursuit of mastering his craft."
Below is the quote published by John D'Addario III, CEO of D'Addario & Co Inc, as the immediate response to this sad news.
'"We are deeply saddened by the news of Neil Peart's untimely passing. On behalf of our entire team, we are proud to have worked with such an iconic, virtuosic drummer and we intend to honor Neil's legacy as one of the greatest rock drummers of all time."
Paul Muto, president of Muto Communications
"If you've ever studied Neil Peart's playing live, you'd see the deep concentration on his part time-and-time again—no posing or preening there—that's for sure. He was the Captain of the ship, navigating truly inventive and complex drum parts night after night. What a contribution he made to drumming, including being a huge influence on millions of musicians around the world," comments Muto.
"I'm a huge fan of everything he's played; favorites of mine include 'La Villa Strangiato,' 'Big Money,' 'Show Don't Tell,' 'Limelight,' and 'Ghost of a Chance' to name but a few.  I remember about 20-plus years ago when he decided to study with noted jazz drumming instructor Freddie Gruber, the net result of which was Neil developing an even more fluid drum style. Thank you and Godspeed, Mr. Peart, you will be missed."
Jim Garrett, Sr. Director, product strategy & planning – Luxury Audio Business Unit at Harman International
Growing up, my two biggest drumming influences were Neil Peart and Stewart Copeland. I studied them intensely and their teachings and music have had a profound effect on my playing to this day. As a lifelong Rush fan, I have seen every Rush tour since 1983's "Grace Under Pressure" tour, including front row seats to the infamous Chicago "Rain Date" show in 2010 on the "Time Machine" tour, and their very last show ever right here in Los Angeles at the Forum on Aug. 1, 2015, at the conclusion of the "R40" tour. I even ran into Neil at the Hollywood Bowl in a concession line not long after that last show of theirs. For me, it was a surreal moment, but it showed the communal power of music as we were both there with our wives to enjoy a great concert. The news of Neil's passing was heartbreaking as it meant we have lost a true musical genius both as a drummer and a lyricist.