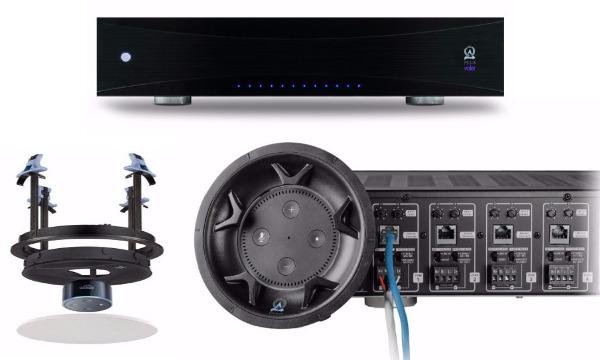 Custom-installation specialist Origin Acoustics is now shipping the voice-controlled Valet Amplifier it previewed last fall at CEDIA 2017.The AV850 amplifier uses patent-pending technology to transform Amazon's Echo Dot into a voice-controlled, distributed-audio source for high-quality in-ceiling (and in-wall) speakers.
"Valet was created to provide a simple platform for integration with the Echo Dot providing voice-controlled distributed audio with a dramatic upgrade in sound quality from that found in the Dot itself," explained Origin Acoustics founder and CEO Jeremy Burkhardt in a recent interview with Sound & Vision. "The Dot connects with a standard Ethernet cable that powers the Dot and returns the audio signal to the amplifier. At that point, 50 watts of power is now available to drive speakers in the walls or ceiling of the remote room while controlling the zone through voice commands.
"The system becomes even more appealing by mounting the Dot behind an in-ceiling speaker grille using our patented Tool-less mounting system," Burkhardt continued. "Now the Dot is essentially invisible and the experience mimics that of a Star Trek crew member walking into the room and verbally addressing the computer. The experience is further enhanced by the sonic quality that is transformed from that of a decent smartphone speaker to that of a quality pair of 6-, 8-, or 10-inch stereo speakers designed for full frequency reproduction."
For more information on how Valet works, contact. sales@d2mk.ca
Check out our interview with Origin Acoustics founder and CEO, Jeremy Burkhardt:
How Origin Is Making Beautiful Music with Amazon
---
Sleek and compact design makes Echo Dot a convenient addition to any room in the house. With its built-in speaker, you can place Dot in the bedroom and use it as a smart alarm clock that can also turn off your lights. Or use Dot in the kitchen to easily set timers and shop millions of Amazon products using just your voice.
Echo Dot can also directly connect to speakers using a 3.5 mm stereo cable, or Bluetooth to add voice control to your home stereo system in the living room or den. With multi-room music support and connected speakers via cable, you can play music across multiple Echo devices (Bluetooth and Spotify not supported for multi-room music).
Echo Dot provides hands-free voice control for Prime Music, Spotify, Radioplayer, and more. With Prime Music, you can search by time-period or let Alexa pick the music for you. You can also listen to Audible audiobooks, podcasts, local radio stations, news briefs, and more.
With Echo Dot, you can call almost anyone hands-free—no tapping or searching required. Your contacts will see your number when they receive the call so they know who is calling. Additionally, you can send messages via voice or text to anyone with a supported Echo device or the Alexa App.
Let your household know when dinner is ready, ask someone for help with a chore, or remind the kids to go to sleep—without having to raise your voice. With the Drop In feature enabled for room-to-room calling, instantly connect with compatible Echo devices in your home. Learn more
Use Echo Dot to switch on the lamp before getting out of bed, turn on the coffee maker on your way to the kitchen, or dim the lights from the couch to watch a movie—all without lifting a finger.
Control multiple devices at scheduled times or with a single voice command, like locking the doors and turning off the lights when you go to bed. Echo Dot works with lights, locks, switches, thermostats, and more from many manufacturers. Learn more about compatible smart home connected devices, including starter kits for easy setup.
Tucked under the light ring is an array of seven microphones that use beam-forming technology and enhanced noise cancellation. When you want to use Echo Dot, simply say the wake word, "Alexa," and Dot lights up and streams audio to the cloud, where the Alexa Voice Service is leveraged to recognize and respond to your request instantly.
Alexa—the brain behind Echo Dot—is built in the cloud, so it is always getting smarter. The more you use Dot, the more it adapts to your speech patterns, vocabulary, and personal preferences. And because Echo Dot is always connected, updates are delivered automatically.
Echo Dot has thousands of skills and counting. Ask about your daily commute, control your lights, check your flight status, find the nearest financial branch, and more. To enable new skills, just ask Alexa.
New skills are being added all the time. You can also see ratings and reviews to learn what other customers are saying about the thousands of skills available in the Alexa App. Discover and enable skills.
With the free Alexa App on Android, iOS, and desktop browsers, you can easily setup and manage your Echo Dot. Make calls, view your conversation history, manage contacts, and get notifications when you receive a message (calling and messaging features available on iOS and Android only). View shopping and to-do lists while on the go. Control your timers and set custom tones for your alarms, and much more. The Alexa App is also where you discover third-party skills.
---

 "The Valet-Alexa system becomes even more appealing by mounting the Dot behind an in-ceiling speaker grill using our patented Tool-less mounting system,".
"Now the Dot is essentially invisible and the experience mimics that of a Star Trek crew member walking into the room and verbally addressing the computer.
The experience is further enhanced by the sonic quality that is transformed from that of a decent smartphone speaker to that of a quality pair of 6-, 8-, or 10-inch stereo speakers designed for full frequency reproduction connected to the Origin Valet amplifier."