Friday, August 13, 2021, Toronto, Canada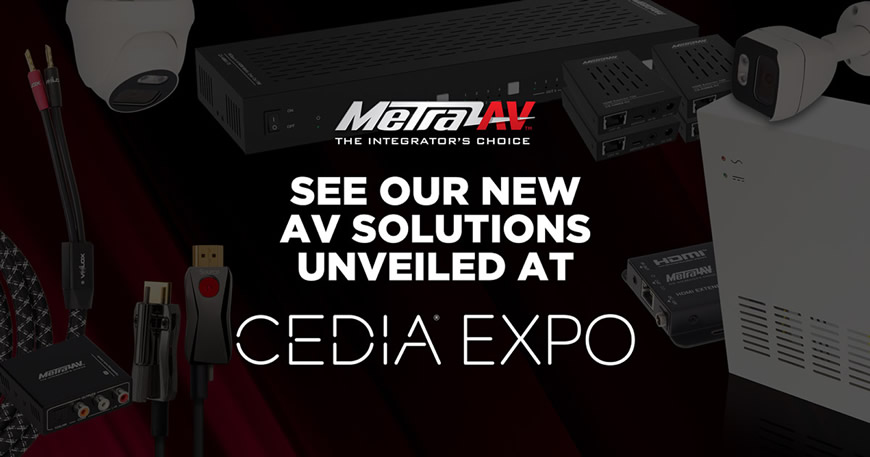 MetraAV™ Unveils New Products at the 2021 CEDIA Expo
Holly Hill, Fla. – MetraAV™ is heading to the 2021 CEDIA Expo to showcase new products at booth 4200. After a year of virtual events, attendees will be able to pick up and see new products in person, talk with sales representatives, and meet the product developers who designed these new solutions. MetraAV will showcase new surveillance cameras and improved power distribution boxes, new premium audio cables, HDMI® extenders, a versatile new audio extender, and more.
MetraAV's CEDIA booth will also feature its award-winning Velox® 8K fibre HDMI cable. The EHV-HDG2 series cable supports 48Gbps up to 100 meters and is the longest of several HDMI cables designed by MetraAV that support 8K resolutions. All colour subsampling is supported, including 4:4:4, 4:2:2, and 4:2:0, deep colour, and Dynamic HDR, allowing the full-range 8K specs and even 10K to be supported. Cutting-edge built-in technology also ensures compatibility between the source and display. Although this cable was unable to be shown at last year's show due to the event's cancellation, it received a 2020 Residential Top New Technology award for the 100-meter model, the EHV-HDG2-100. Now, attendees will be able to see this cable in person at the booth, along with several other solutions for 8K connectivity.
MetraAV will also be participating in the Josh.ai scavenger hunt and will have a Josh Nano installed in their booth to showcase how they have partnered with the luxury and privacy-focused voice automation platform.
These next-generation solutions are designed for both commercial and residential use, as part of a rebranding effort that the company went through this year, changing its name from Metra Home Theater Group to MetraAV, now known as "The Integrator's Choice™" for AV products. MetraAV will roll out new product releases with detailed information leading up to the event and invites customers to book a private meeting at the show with the sales team to learn more. Attendees can visit MetraAV at CEDIA Expo booth 4200 or at InfoComm Booth 3629 on Level 2 in the West Building to see these new products on display.