Over-the-fireplace MantelMount MM860 motorized mount enables resellers to upsell TVs, surround sound and control to clients.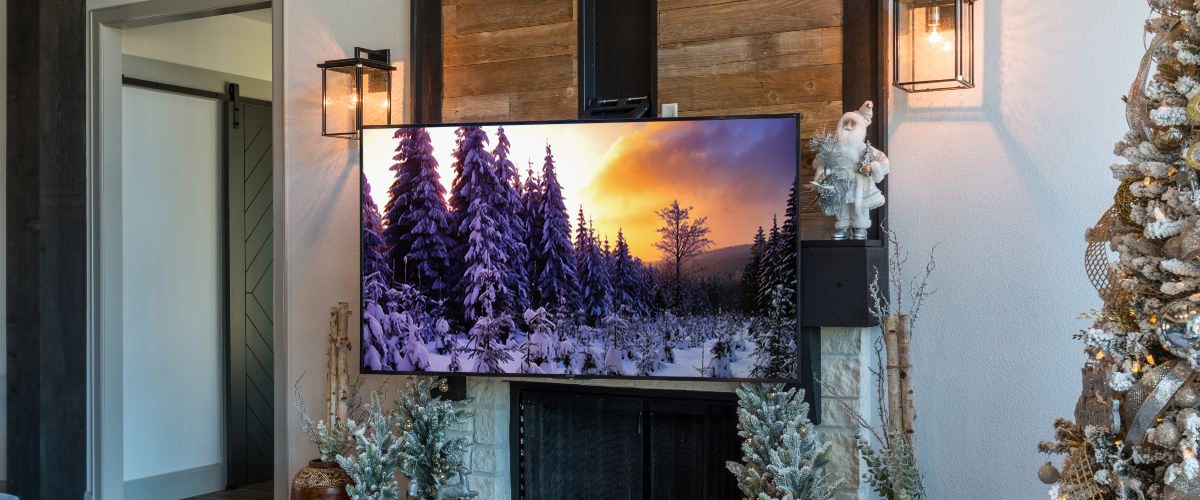 Motorized TV mounts are not an accessory to be overlooked at Elite Automation & Technology in Conroe, Texas. Indeed, owner Justin Carter estimates the company earns $3,000 to $10,000 in additional revenue per project just because it carries the MantelMount MM860 motorized TV mount.
The MantelMount MM860 motorized and drop-down swivel mount is designed to accommodate a TV display placed over the fireplace. The unit has an array of features, including a temperature-sensing monitor that automatically retracts the mount if the temperature gets too hot, recessed housing, and power-sensing technology that detects if the TV is left on. It also is third-party controllable via Control4, URC, RTI, Crestron, Savant, and Logitech, among others.
But according to Carter, the unit's most valuable feature is its ability to simultaneously drop down 24 to 32 inches from its original height and wow customers. That motion enables the TV to sit high over the fireplace when not in use, but then lower and simultaneously swivel to a comfortable eye-viewing height. At the same time, the MM860 extends outward from the wall to enable the TV to clear any photos, clocks or other items placed on the mantel.
"Customers don't want to necessarily hide their TV, but they don't want to strain their neck to watch it," he says. "To have another tool in our tool belt to be able to present a motorized or drop-down TV solution is great. Clients love it," he remarks.
Carter says the mount helps drive new revenues to his business that might have been otherwise lost.
"In almost every case, the client does not know that the product exists. Many times they're talking about mounting the TV to the left or right of the fireplace, or eliminating bookcases to accommodate the TV. There are a lot of scenarios where we might not have even put a TV in a client's room without having a MantelMount solution," says Carter.
Typically, Elite Automation & Technology is adding the MantelMount units in a family room or living room, which means surround sound speakers are in play also.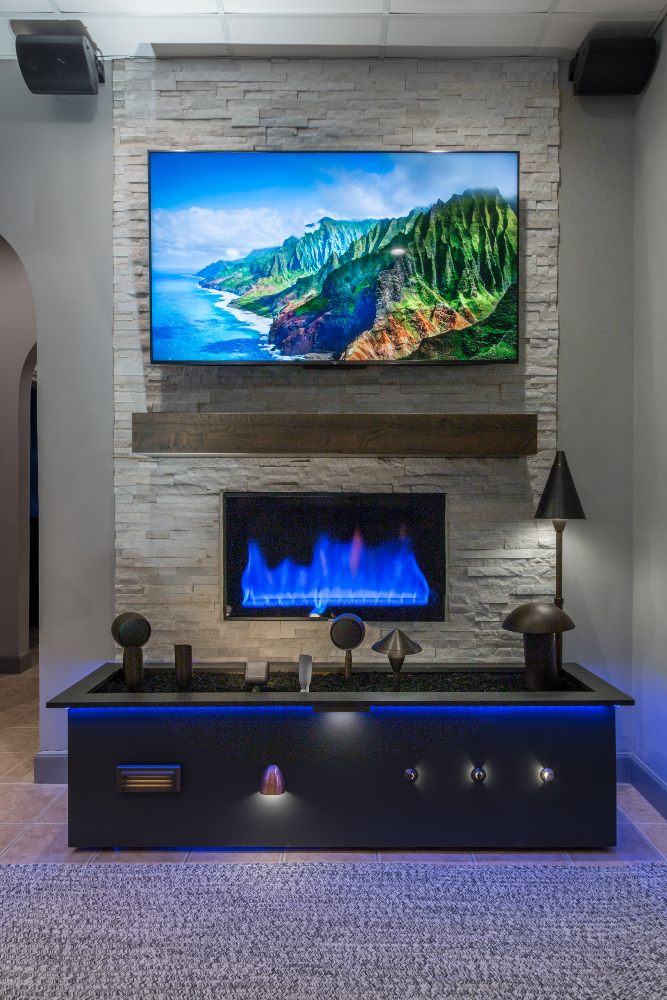 "We are not just adding the price of the TV and mount, but in most instances, we'll put in surround sound too. So without the mount, not only would we not be installing the TV, surround sound, subwoofer and in-ceiling speakers, and we wouldn't be charging for the labor for the programming and integration. All that goes with the sale of the mount. It can easily be a $3,000 to $5,000 bump on any project. It's a potentially big nut to lose, especially when you multiply it over multiple homes," points out Carter.
He says it is not uncommon for those systems to elevate all the way up to a $10,000 installation. Elite's brands of choice are Control4 integration, Sony and Samsung TVs, and Triad Speakers. In 2019, Carter has installed "many, many" of the units, and he estimates about one dozen of those installations he may not have gotten if he had not offered the motorized mount solution. If those installations hit the $10,000 figure, that's a cool $120,000 in additional revenue… all because of the MantelMount MM860 motorized mount.
"Whenever we describe to clients or interior designers that we can put the TV above the mantel and have it drop down so that it's actually comfortable to view, then it just becomes a whole gamechanger as far as how they can design the room and how they can use the room. They're willing to put the TV over the fireplace because it can drop down without any effort," comments Carter.
Elite Automation & Technology has been in business for 16 years and the company specializes in a wide array of installations, from six-figure luxury systems that include lighting, shades, outdoor audio, and landscape lighting to simply mounting a TV or installing a Wi-Fi network.
"We provide pretty much anything for our clients related to technology. Pretty much you name it — if it's technology-related inside of the residence — we take care of it for them," he says.
Wow Factor
Carter installed one of the MantelMount MM860 units in his showroom to wow clients.
"The motorization has me hooked. We have one in our showroom and every instance when we've hit the button and the mount moves, clients say, 'Oh my God, I've got to think of a place to use this in my home.' Having one in our showroom has been a huge bump in terms of getting the conversation started about unique ideas. It is very cool… everyone loves it," he chuckles.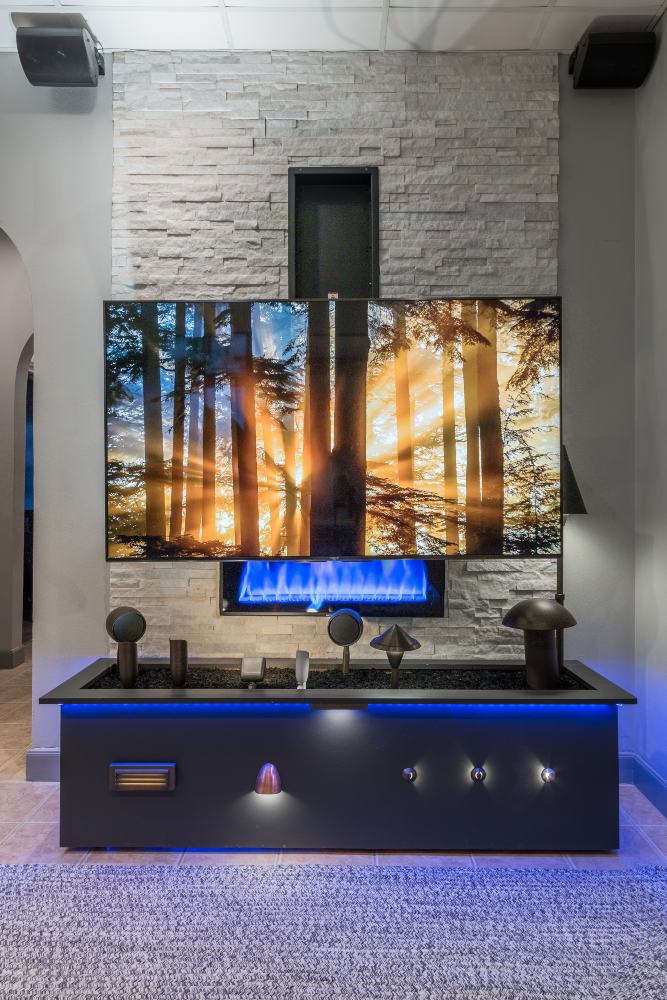 Beyond the monetary benefits of the mount, the unit helps get clients excited about technology. Carter says some of his clients live in multi-million dollar homes loaded with technology, but they get most excited about showing off the mount.
"I think is a big value whenever clients are excited about their system," he says. "They tell their friends and their friends are now calling you asking for technology. I think that that's a big value-add. So it's not just the revenue I might have lost if I don't install one of these mounts, it's also the connection with the next client that I could lose too because they're not talking about the wow factor."
Adding to the wow factor, Elite Automation routinely installs recessed back boxes to reduce the TV and mount's profile. That solution requires pre-planning early in the project, Carter notes. He adds that the mount can also be installed in various materials, from stone to brick. Usually, Elite Automation can install an MM860 in less than two hours.
Carter also programs presets into the motorized mounts so the homeowner simply has to press a single button to get the TV to automatically move a comfortable viewing position. Other presets will swivel the TV to reduce glare from nearby windows or angle to side seating positions.
By the way, the one cool feature in the MM860 that Elite Automation doesn't take advantage of is the heat sensor. Why?
"Most of the fireplaces in Houston are fake… it's always warm here," quips Carter. However, the heat sensor will automatically retract the TV to a safe position, high on the wall, if the temperature becomes too hot.
This past year, the MM860 won both the Residential Systems Best of Show Award and the CE Pro Best Product Award. Most recently, MantelMount won the 2020 Mark of Excellence Award for Product of the Year (in the Rack/Mount category), presented by the Smart Home Division of the Consumer Technology Association.
For more information on MantelMount Automated MM860 Robotic Mount, please go here. This mount is not sold directly to consumers; it is only available through authorized MantelMount Dealers. To register as a MantelMount Dealer, please visit here.