MantelMount debuts its first-ever motorized over-the-fireplace TV Mount, the $2,999 (Canadian funds) MM860 exclusive to custom installation channel.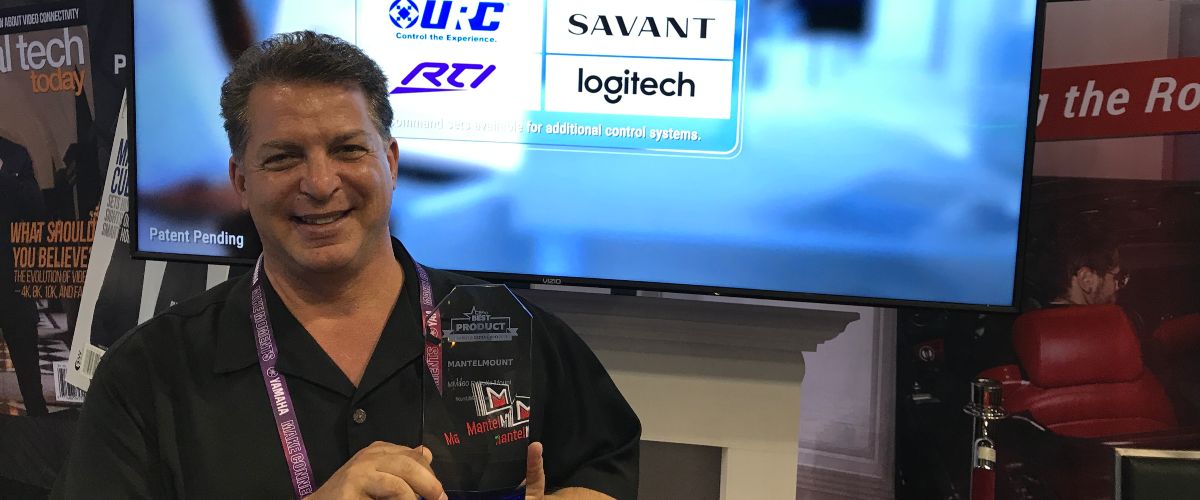 Relying on feedback from both the installer and consumer communities, MantelMount used CEDIA Expo 2019 to introduce its Automated MM860 Robotic Mount.  The $1,999 motorized TV mount automatically lowers and swivels a TV to eye level and is targeted for installations high on a wall or over a fireplace.
Three years in the making, the Automated MM860 Robotic Mount works with multiple popular automation control systems, including Control4, Crestron, RTI, Savant, Logitech, and URC. It also has command sets for hard-coding additional control systems. In addition, the MM860 TV mount can be controlled through the included 433 MHZ RF remote, as well as IR-based remotes from Logitech and URC.
The patent-pending multi-axis hub, proprietary software, and precision electronic actuators allow the Automated MM860 Robotic Mount to lower and swivel simultaneously in one fluid, barely audible movement.
Among the TV mount's features is the power-sensing technology that detects when the TV is turned on and automatically lowers it to a favorite preset, providing automation even without a control system.
For televisions mounted above a fireplace, the MM860's Temperature-Sensing Monitor automatically returns the television to its home position if an unsafe temperature is detected, a feature that can be programmed into the control system.
As with the company's manual Pro Series mounts, the Automated MM860 Robotic Mount can be recessed for flush-to-wall installations. When recessed, the mount's lifting arm and electronics are completely concealed in the raised position. The mount can also be surface mounted and is paintable. Cable ties keep the signal and electrical cords neat and organized.
Featuring "plug and play" networking, the Automated MM860 Robotic Mount is DHCP-enabled right out of the box and is identifiable on the network. The product's communication protocols allow the mount to be managed with IP and RS232 through Ethernet, dry contacts, or a serial IRDA port.
The MM860 comes complete with an on-board web server for a simple browser-based configuration. All of the mount's electronics are in a single accessible, lightweight control box, which can be easily serviced or removed if necessary.
Other key features are:
Multiple Memory Presets, allowing the user to easily program multiple preset positions to accommodate everyone's favorite viewing position
Power-loss recovery that keeps the mount's last location in memory, eliminating the need for a reset after an unexpected power outage
Vertical and horizontal travel limits configured through both software and hardware, providing a safety shield that prevents the TV from ever touching the wall or mantel
A CPU with ample onboard memory
The MM860 Robotic mount is made to fit televisions with a diagonal measure between 55 and 100 inches and up to 125 pounds (total load). It offers a vertical drop of up to 30 inches, an off-the-wall distance of 20.5 to 23 inches; and a swivel capacity of up to 25 degrees to either side.
"Our new MM860 Robotic Mount is, without question, the premier home automation mount on the market," says Lee Marc, CEO of MantelMount.
"We have further distanced ourselves from competitive offerings with features that no other mount can claim. It's a state-of-the-art product that's attractively priced. Custom integrators will wow their customers with advanced technology while enhancing their home theater experience. At the same time, they'll generate more revenue with the sale and installation of this truly premium product.
"The MantelMount MM860 Robotic Mount demonstrates our ability to evolve and improve, as well as our desire to meet and exceed the demands of the marketplace."
MSRP of the MM860 is $2,999, "a highly competitive price, given the feature-rich functionality," noted Marc. MantelMount also offers a lifetime limited warranty for all TV mounts and accessories.
The MM860 will not be sold directly to end-users; rather, it is being sold exclusively through MantelMount's authorized dealer network. MantelMount will actively refer all consumer requests for the product to its dealer network.