Logical Buildings earned the CTA Smart Home Division Mark of Excellence honor, aided by its SmartKit AI platform and Samsung SmartThings sensors integration.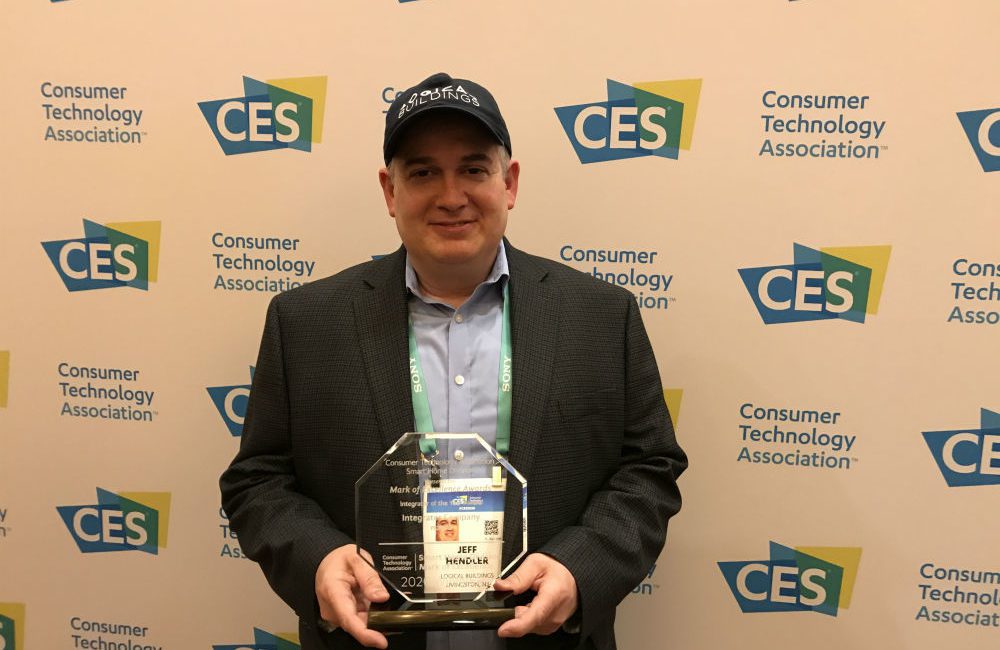 The annual CES show is all about forward-thinking and potentially disruptive technology for homes and buildings. It's befitting that the CTA Smart Home Division and CE Pro hand out the Mark of Excellence Awards honoring such inspirational products and projects at the annual mega show in Las Vegas.
It's equally apropos that as part of the awards program (you can find the 2020 winners and runners-up here), each year a residential technology firm is recognized as Integrator of the Year. These smart home integrators are at the forefront of disruption, after all.
This year, the judges rewarded a company that is truly implementing game-changing technology and redefining the scope of what an integrator can do. Logical Buildings earned Integrator of the Year distinction with its impressive display of MDU building projects, integrated software, energy and utility enhancements and more.
While previous winners have certainly been more than worthy, this year's selection feels just a little bit different … like a validation of the evolving custom industry.
Powering Smarter Buildings
Logical Buildings is a 5-year-old smart building software and solutions company that creates unique energy savings derived from real-time transparency and data-driven insight of residential building operations through the utilization of its SmartKit AI mobile software.
"The world of a smart building is here, it's no longer like, oh five years. It's actually happening. We're doing it, others are doing it," Jeff Hendler, CEO of the Livingston, N.J.-based company told CES attendees during the Mark of Excellence Awards ceremony.
Built by a combination of energy and telecom engineers along with shareholders who own and develop multifamily and mixed-use properties, the company completed 100 projects in 2018.
"Through predictive analytics, a gamified engaging mobile user experience, and continuous training/support from our Concierge team, our integrated IoT platform empowers residential building managers to optimize building operations," Hendler touts in Logical Buildings' Mark of Excellence Awards submission.
The laundry list of data- and technology-driven benefits from the IoT integration include: reducing energy consumption, providing utility grid relief, minimizing carbon emissions, increasing water efficiency, and enhancing building resilience for multitudes of residents that live in urban high-rise apartment buildings.
"We take all these smart devices and we give meaningful and useful information to people, to the community," Hendler says. "The folks who run buildings, the people below the deck who never got that commission, never got that acknowledgment for the things they do in the building … now they're reducing energy, they're reducing carbon footprint, they're creating resiliency in the building and health and wellness."
Logical Buildings employs Samsung SmartThings sensors to integrate with utility smart meters and smart thermostats. The company leverages voice activation from its Alexa Skill SmartKit AI for building intelligence.
"Our building managers can literally talk to their residential apartment buildings to assess amenity area well-being," Hendler explains.
"Is it too hot, too cold, too humid? Is there a leak? Is any equipment not on that should be operating?"
Logical Buildings creates what Hendler describes as "unique Ontologies and Semantics defining building activities linked to qualitative building performance."
That building performance creates for its clients "clear, measurable quantitative and financial ROI – applicable globally," says Hendler.
All About AI & Analytics
To achieve optimal results, the integrator manages to marry technology, AI and its predictive analytics development with its growing archive of operating data (energy, water usage, equipment operations, space utilization and more) from thousands of residential MDU buildings.
All of that valuable data, analytics and the company's ever-increasing knowledge in integrating energy management and equipment fault detection have made Logical Buildings attractive to utilities and manufacturers, says Hendler. It's become a sought-out partner by the likes of Constellation, Tesla, Stem, Philips, Schneider, and others, he notes.
Furthermore, he explains, Logical Buildings' expertise has been tapped by regulatory agencies such as NYSERDA (New York State Energy Research & Development Authority) and others in energy technology/markets for guidance as well as contributing to how new incentives and tariffs are being written for energy end-users, according to Hendler.
"We bring context and enhance the value of other peripheral smart building vendors, maximizing end-user value," he says.
"Our team understands the intersection of residential building system technology and energy markets better than anyone, enabling us to deploy the simplest suite of IoT meters, sensors, control devices and mobile Concierge training that guides staff to increase energy revenue and reduce energy expenditures."
The company's SmartKit AI software is hardware agnostic and integrates with most systems, BMS's and disparate mechanical equipment for MDU buildings.
NYC Project Showcases Savings
As a notable recent example of its work, Logical Buildings points to a completed retrofit of a large multifamily apartment complex in midtown New York City integrating Samsung SmartThings sensors with Con Edison's utility smart meter.
The 37-story, 230-unit apartment building is owned and managed by Greystar – the nation's largest apartment property manager, Hendler says.
"What's most exciting about the SmartThings integration retrofit is the deployment of Samsung's consumer electronic IoT sensors to monitor and manage the apartment building's onsite cogeneration system that produces electricity for common areas and thermal load to heat the residential domestic hot water needs – in the most sustainable fashion reducing carbon emissions," he explains.
The job's net investment of $7,000 projects to reduce energy costs annually by $25,000 yields the apartment complex owner a net increase in net asset value over a half-million dollars, with payback less than one year, Hendler estimates.
Talk about a smart integrator helping to create smarter residences!