Looking to create a cozy bedroom hideaway, or to block out sun during baby's naptime? How about creating a stunning media room where guests can watch a movie at any time of the day or night?
Transforming your space can be as easy as selecting the right window treatment. And yet, with more options than ever before, selecting the right window treatment for your home can be daunting for the uninitiated. (If you were hoping that adding a motor to the mix might narrow your options and make it easier to decide, you are out of luck. Almost all window treatments can be motorized!) Here, we examine some of the most popular and versatile window treatments options, paying special attention to that age-old question: What's the difference between shades and blinds?
Curtains and Drapes
Fun or formal, curtains and drapes are often the unsung heroes of interior design. Not only do they filter out harsh light and the gaze of your nosey neighbor, but they can set the mood and tone of a room. Whether you seek a gauzy, romantic look that lets in the breeze from your deck, or something with some serious light-blocking ability, you will be able to find a solution that suits your needs.
When considering curtains, it's important to think about both form and function: First, consider any problems that you require your curtains to solve. Too much light? Trying to save energy? You will need a heavier or lined curtain rather than something on the sheer end of the spectrum. Are you looking to dress up a formal living or dining room? Then velvet or heavy silk might be the ticket. Households with kids or pets may want to say Yes! to easy washing cotton or rayon curtains.
Before you make a selection, you'll want to make sure you have carefully considered all of the following: color, fabric, type of hardware needed to mount the curtains, and the shape and size of your windows. All of these different options will play into the selection that you make.
Panels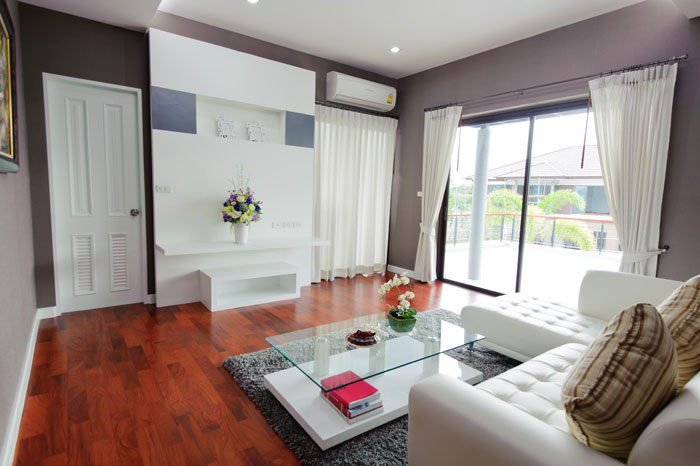 Ideal for living rooms, dining rooms, and bedrooms, panels look best on larger windows and sliding glass or french doors. They have a lengthening effect, and when placed slightly above the top of the window or door, can even make your room look more spacious! Panels come in any color or pattern you could possibly imagine. Buy already made curtains in your favorite patterns or have them custom-made with a fabric of your choosing.
Panels accented with a decorative rod, are a tried, true, and elegant solution that look great in almost any application (bathrooms and kitchens are possible exceptions.) When choosing your hardware, remember to consider the mood of your room: A heavier curtain rod will look more formal and dramatic, while a lighter rod will look breezier. A good rule of thumb? If your curtains have a fairly busy pattern, lean towards a less adorned curtain rod so as not to overwhelm your window.
Thermal or Blackout Draperies
These have come a long way in the last few years to combine style and function. Thermal and blackout curtains come in a variety of configurations, but all are designed to be energy efficient and light blocking. Use your thermal curtains to cool a space when you close them during the heat of the day, or to warm it when the winter sun is out. Blackout curtains are the answer to the daytime nap conundrum (for adults and kids alike!) or can be used to convert your living room into a media room. Because blackout and thermal curtains are heavy, once closed, they stay closed and let in almost no light by design.
Sheers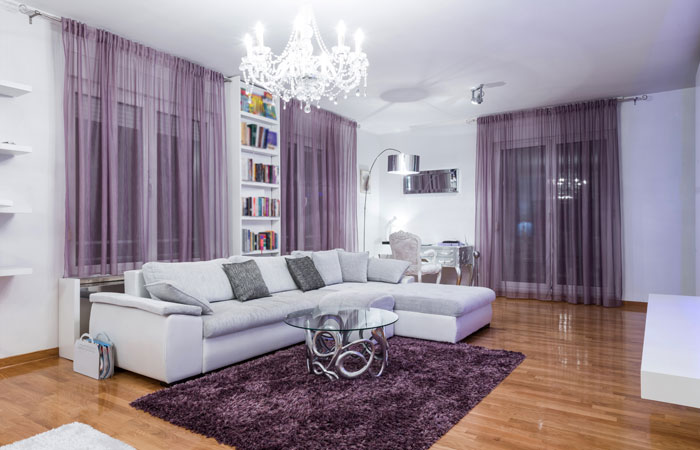 Sheers are light and airy, but do come in a variety of colors. They are very versatile and can appear alone or paired with heavier materials and valances. Using sheer curtains underneath heavier drapes or curtains allows you flexibility in terms of how much light and privacy you have. Closing the drapes creates total privacy, while opening the drapes and closing the sheers lets in some light without making you feel exposed.
Tiers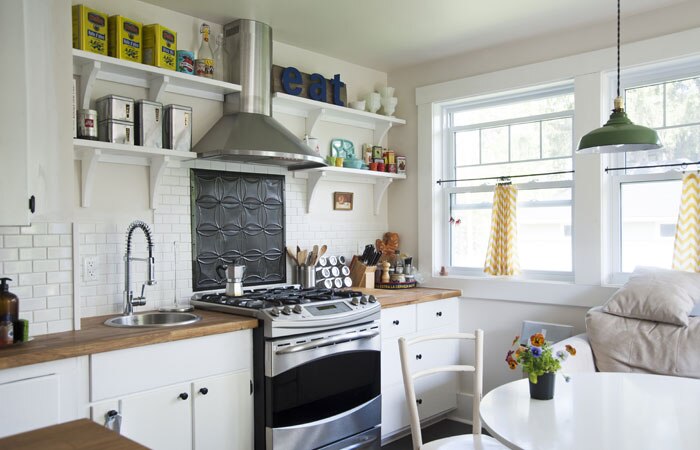 Tiers are hung on short rod-pocket panels. They are usually meant to cover the lower third of a window and are popular choices for bathrooms, kids rooms, and kitchens. Tiers work as part of a traditional or country look and are often paired with a valance.
Shades
People often refer to blinds and shades interchangeably. While the two have much in common, they also have some important differences. Both types of window treatments can add privacy and block out light, but shades can be the less expensive option between the two. The biggest difference, however, is that shades do not have slats or vanes. They are made of continuous pieces of fabric that roll-up via a pulley mechanism.
Another key difference between shades and blinds is that shades (especially shades made from lighter colored and more porous materials) are often used to filter or soften light rather than to block it, even when completely down. You'll choose from shades made from a variety of different materials including cotton, polyester, and linen. Some shades may be coated with a PVC Fiberglass coating to help resist stains, dust, and to help the shade maintain its shape.
Pleated Shades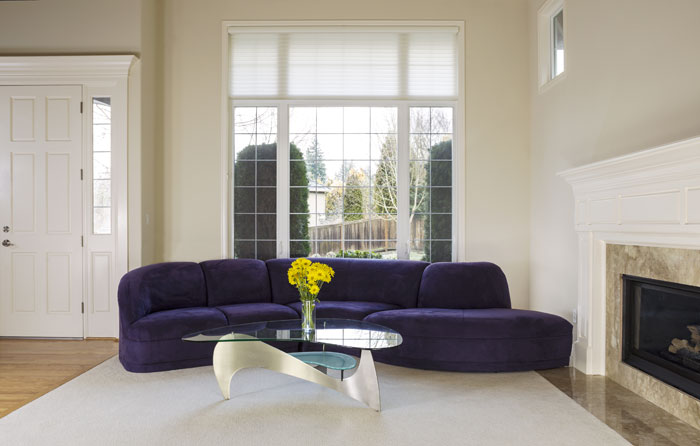 Simple and pleasing, pleated shades are a classic choice. They are made of a single piece of fabric, accented by crisp pleats. They come in a variety of fabrics and colors. Lighter colors allow more light to come in, while darker colors are the right choice for enhanced privacy and to keep light out.
Cellular/Honeycomb Shades
Cellular shades are quickly becoming a favorite in the window treatments market. They have honeycomb-shaped pockets between the back and front panels, making them cost and energy efficient. How? The pockets trap air, reducing heat loss in the winter and keeping your rooms cool in the summer.
Roller/Solar Shades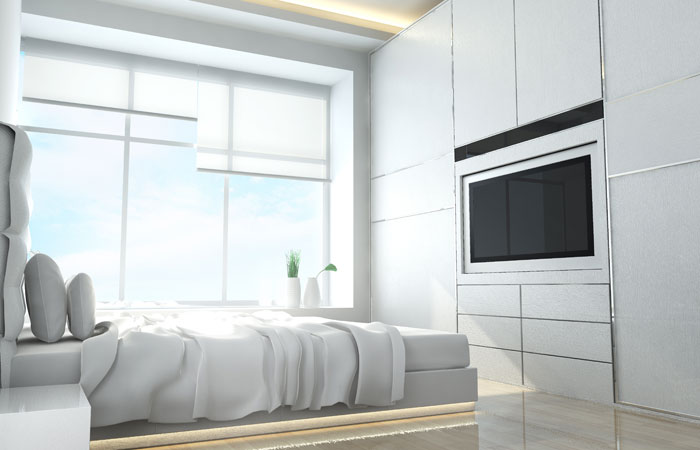 Choose solar shades to reduce glare and harmful UV rays. Another benefit of solar shades is that they are easy to clean with a wet cloth. Select from a variety of textures and fabrics, including eco-friendly bamboo and hemp blends for your green home.
Roman Shades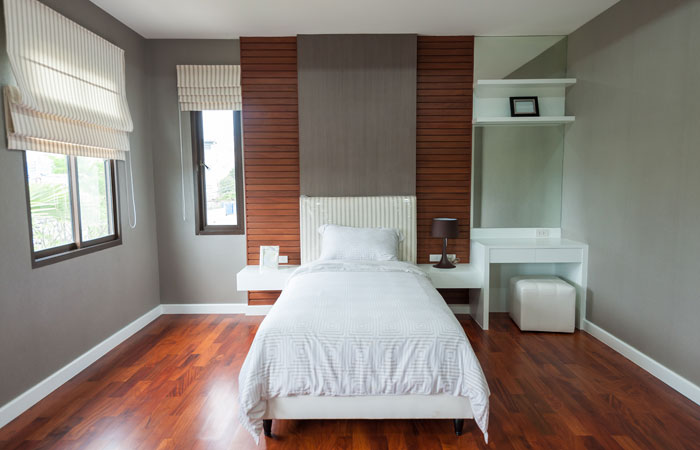 Roman Shades can be light and elegant, with a permanent folded bottom or multiple folds. They can also be made from heavier fabrics, which block the light. These shades are ideal for rooms where you want some light to come in, as they are not high on the light-blocking spectrum. Because they are so light and airy, they are also not the choice for energy efficiency. However, on looks, they deserve an A+! Cleaning Roman shades is easy — just use your vacuum attachment and a light touch to remove dust and debris from inside the pleats.
Blinds
Harder than shades, blinds can be made of wood, composite materials, aluminum, leather, or vinyl. The slats come in a variety of lengths and widths, and can be horizontal or vertical. Blinds offer great versatility in terms of light blocking: They can be completely opened or closed, partially opened or closed, or angled to let light filter in where and when you want it. If you are trying to decide between blinds and shades, consider whether or not you want a hard or a soft material and how important privacy and light blocking are to you. Blinds often win out over shades in these areas.
Wood Blinds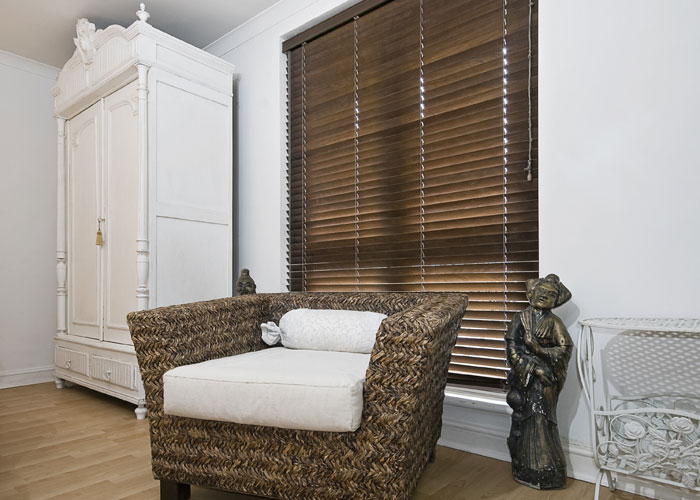 Wood blinds offer a touch of sophistication to otherwise run-of-the-mill vertical blinds. Choose from a variety of woods and finishes, from mahogany to matte. Wood blinds are most often used in living areas, rather than bedrooms or kitchens, as they can feel heavy.
Faux Wood Blinds
Faux wood blinds are both easier to care for and less expensive than traditional wood blinds. Composite materials have come a long way in the past decade, and faux wood blinds look very convincing. In rooms where you spend less time, choosing faux wood blinds that match the real wood blinds in your main spaces can be a smart cost-saving trick. Cleaning is fast and easy, making them a great choice for families with young children.
Vertical Blinds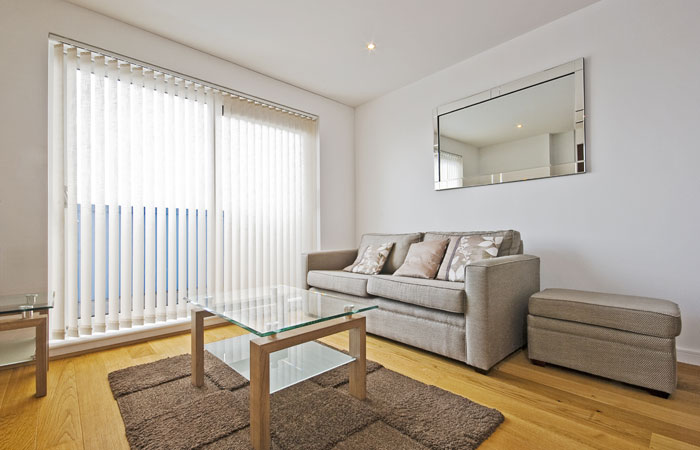 Vertical blinds add dimension and perspective to tall windows and doors; because of this, they are often enlisted to dress patio and balcony doors. Available in both fabric and vinyl materials, you are sure to find a color and material that meets the needs of your space. Vertical blinds work well to block light, especially in darker colors.
Mini-Blinds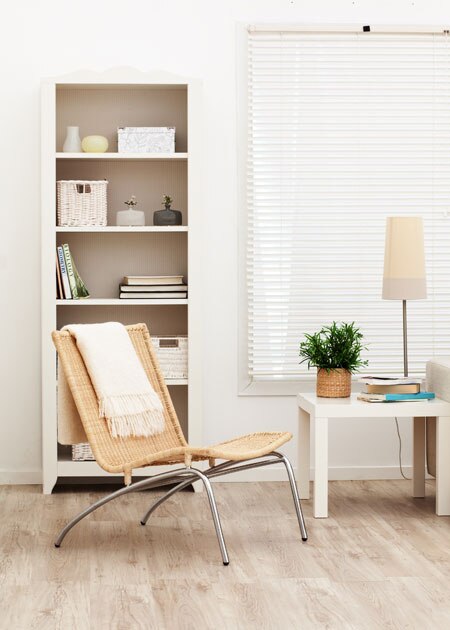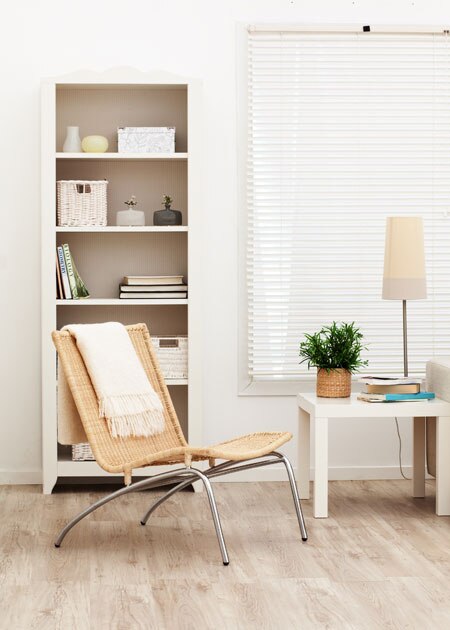 You probably had these in your first apartment or college dorm room. While they are not long on style, they are effective at blocking out light and creating privacy. If you plan to leave your blinds up most of the time, mini-blinds can be a cost-effective option. Choose from many different colors and from aluminum or vinyl blinds.
Shutters
Shutters offer a classic, elegant look that privileges both function and style equally. Even sturdier than blinds, shutters can be expected to last up to 20 years! That's quite a commitment to your window treatment, so it pays to make sure that shutters are the right decision for you. In addition to being sturdier than either shades or blinds, shutters also come with a higher price tag. However, given that you can expect your shutters to last for years to come and that they are a snap to care for once installed, shutters can be an excellent long-term window treatment.
It's worth pointing out that shutters can be both interior and exterior. We'll be focusing on interior shutters here, but exterior shutters can be a great choice for anyone who needs protection against strong winds, hurricanes, or sun. Exterior shutters are also a good option for anyone who doesn't want interior window treatments, but still likes the option of having exterior protection if needed.
When choosing your shutters, you'll want to understand the differences between the major categories of interior shutters and that you will be choosing from wood, composite, or vinyl. Nowadays, more colors and finishes are available than ever before, so you can customize your shutters to an unprecedented degree.
Plantation Shutters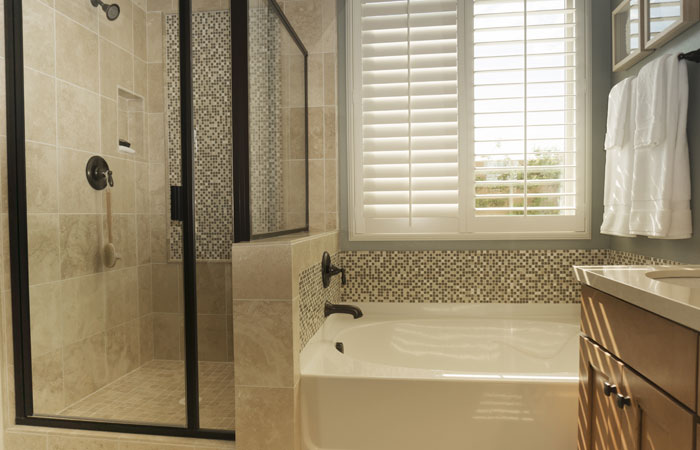 A popular choice for kitchens and other areas where you want to let in lots of natural light, plantation shutters differ from the traditional shutters you may be familiar with in that their slats are wider apart. (This is why plantation shutters are not usually recommended in bedrooms, as they are not designed to be light-tight.) Plantation shutters can be hung singly, where one pair of shutters covers the entire window, or they can be double-hung for a total of four separate shutters per window. This solution is perfect for bathrooms, where you may want to keep the lower shutters closed for privacy, while keeping the upper shutters open to let in light. Plantation shutters are among the most popular style of shutters on the market today and are often selling points when a home is on the market!
Cafe Style Shutters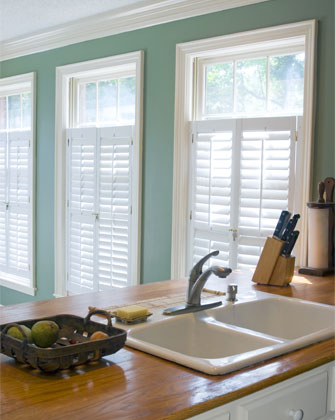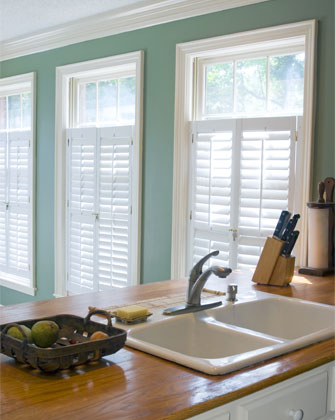 Imagine sipping a latte at a Parisian Cafe…with the sun blinding you. Cafe shutters are designed to prevent these types of mishaps by covering the lower half of a window, typically at table height. This makes them perfect for kitchens and dining rooms, but could also work in any room where you want to block out unsightly outdoor views, while still letting light into your home. Cafe shutters work well with curtains installed above them if you are looking for more privacy.
Shaker Style Shutters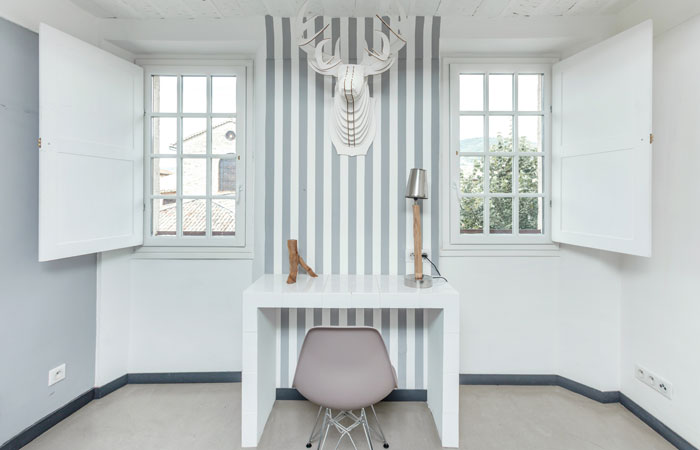 Shaker style or solid panel shutters are the type of shutters you imagine shutting out a bad storm and curling up with a book behind. They block out light and add privacy like nobody's business because they do not have any slats and few seams. Traditionally, shaker style shutters have been recommended for larger rooms, as it was assumed that they could make a smaller room feel closed and shut off. While shaker shutters are probably best in a larger room, they can certainly be used in smaller rooms when you want to create a safe, cozy feel. One other option? Tall windows can be fitted with a top and bottom split of shaker and slatted shutters. This can either be the best of both worlds, or too much going on.
So, how do you decide?
If your head is spinning, try to relax! It's true that there are many options out there and given that window treatments are a real investment, the stakes can feel quite high. Our advice? No amount of research beats going to a retail or design shop to see and touch the options that are available. Remember, given that almost any type of window treatment you can dream up can be motorized, your options really are as wide as your imagination! We also recommend that you order swatches of any fabric or other material that you interested in so you can see how they will look in your home. Chances are, your choices will surprise you in the best possible ways!