AudioControl announced the new Maestro and Concert Series of processors and AV receivers are now available.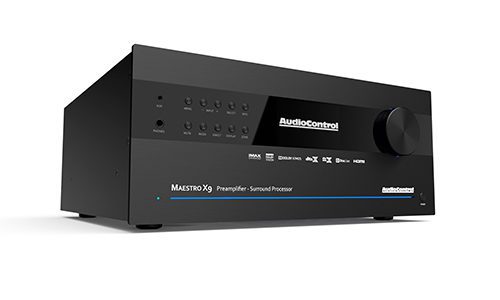 The Maestro X9 is a home theatre processor that offers a number of HDMI inputs and processing such as Dolby Atmos.
The Wash.-based company explains that its new processors provide 16 channels immersive audio through processing options such as Dolby Atmos, Auro 3D and DTS:X. AudioControl says its Concert Series AV receivers offer immersive audio and features such as Dirac room correction.
Maestro Series Preamp/Processors: The Maestro X9 and Maestro X7 support audio configurations up to 9.1.6, and the products provide options such as seven HDMI 2.0b inputs that support 4K and HDR, and the products are certified IMAX Enhanced.
The Maestro Series products also incorporate Dirac Live room correction that provides equalization and bass management. Internally, the products also feature ESS Sabre DACs.  Other features include Google Cast, Apple AirPlay 2, aptX Bluetooth and Wi-Fi streaming.
Concert Series of AV Receivers: AudioControl's new generation of AV receivers includes the Concert XR-8, Concert XR-6 and Concert XR-4 products.
The Concert XR-6 and Concert XR-8 add the Auro 3D immersive audio format processing option.
AudioControl points out that integrators have six channels of configurable outputs to support high-pass channels, additional subwoofers or height channels. With their 16 channels of outputs, and options such as Google Cast, Apple AirPlay 2, aptX Bluetooth and Wi-Fi streaming options, AudioControl states the Concert Series receivers are engineered to serve as the focal point of today's AV systems.
PRODUCT INFO:
Product Name:   Maestro and Concert Series of products
Manufacturer:   AudioControl