Integrators working alongside an electrician to handle outdoor lighting design space.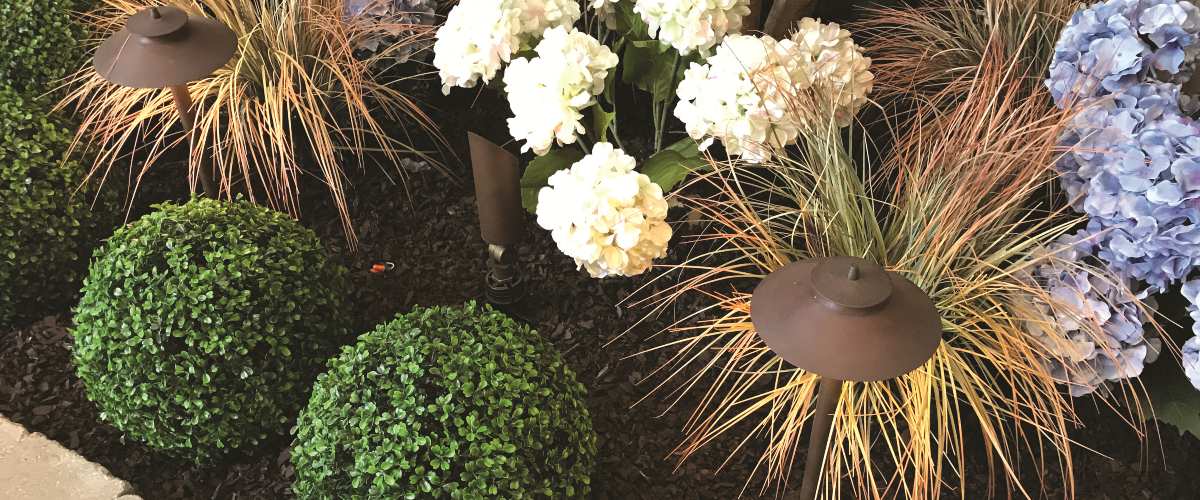 One technology prevalent in the new Torrison Stone & Garden outdoor showroom in Durham is landscape lighting, but it was not installed by Hometronics Lifestyles.
Bob Isleib of RLI Electric handled all the outdoor lighting in the design space. Isleib attended the Landscape Lighting Institute in Troy, N.Y., back in 2008 and landscape lighting has been a staple of his business ever since.
"My passion changed forever," he says after taking the lighting design course. "Learning lighting design in the outdoor area allowed me to reinvent how I design lighting for the interior as well."
Today, landscape lighting is 70% of RLI's business and continues to grow. Isleib has done more than 20 landscape lighting projects since April.
"The landscape lighting continues to outpace regular electrical. Perhaps it is what I focus my energy on or perhaps it is simply because I'm becoming known for the outdoor lighting," he says.
Isleib calls the Torrison space "amazing" and says it is one of a kind. "According to the reps that I speak with, there is nothing like this at any of their other customers' locations. Yes, there are some outdoor showrooms that may have a few of the things this one is showcasing, but nothing like the effect of all the vignettes of the Torrison showroom," he says.
"If other electricians can stop thinking like electricians and use each other as a network ally rather than view others as competition, then things will flourish for them as well. Having strategic partners in the outdoor industry is imperative. One contractor cannot do all the necessary tasks to make the area a true outdoor living space," Isleib comments.  "When you have partnerships that are established and when one of the partners knows what the other partners will be looking for or what the next step is going to be, it is a win, win and win for everyone."
In addition to running power wires for the two outdoor kitchens, RLI Electric installed the landscape lighting system for the Torrison showroom. In all, it is about a $35,000 system that features:
8 Tiki light fixtures
LED under-counter tape
13 commercial-grade path lights
16 uplights
3 well lights
1 area wash light
40 feet of low-voltage lights
8 low-voltage recessed lights in a pavilion
5 pergola downlights
Lutron Caséta lighting controls
"Right now, I tell clients to walk by and see the effects of the lighting techniques," says Isleib. "I never imagined getting inspired by a landscape, garden or architectural lines of a home. I honestly believe if you do not have a passion for lighting, you cannot sustain the energy to do the work. I believe night-time adjustments are imperative for every project. Going up in a tree at 10 p.m. in June to adjust a downlight is not for everyone."
D2MK Solutions supports the following LED indoor & Outdoor LED lighting solutions
Coastal Source:  www.coastalsource.com
Environmental Lights:  www.environmentallights.com
LumaSream Intelligent Low Voltage LED Systems:  www.lumastream.com
We look forward to your questions.
D2MK Support